Progressive Converting (ProCon), rooted in a rich history of innovation and adaptability, continues to set the industry standard for high-quality converting services. Starting as a modest venture in 1991, ProCon was built on the collective expertise of former printers who saw an unmet need in the North American paper marketplace. Today, we are proud to be the largest independent paper converter in the region, boasting six operational facilities and a strong workforce of over 500 employees.
Over the years, our portfolio has grown beyond our initial offering of converting services. The merger with PaperQuest in 2006 marked the addition of paper sales to our services. Furthermore, we've made significant strategic acquisitions and have cultivated our coating business unit, which offers the revolutionary Vireo sustainable coating solutions. While we've expanded and diversified, our core commitment to exceed client expectations and support the print and packaging industries remains at the heart of everything we do.
ProCon is the premier provider of paper converting, coating, sales and supply chain solutions for the North American paper printing and packaging industries. We're focused on sustainable initiatives utilizing recyclable, repulpable, and renewable resources to provide a better future for our customers, employees and the environment.
ProCon is committed to a sustainable future and to improving the social, economic and environmental well-being of our customers, employees, suppliers and the communities we live and work in.
ProCon's story is one of perseverance and dedication to redefining the paper industry. The company launched in 1991, when a team of paper industry veterans came together in Neenah, Wisconsin to provide high-quality converting services to merchants, commercial printers, and paper mills.
ProCon headquarters relocated to Appleton, Wisconsin in 1992. The acquisitions of Northwoods Paper Converting and Resource One International allowed for the expansion of manufacturing capacity and the establishment of the Paper Valley campus in Northeast Wisconsin. Today, ProCon is the largest independent paper converter in North America.
The company's passion for sustainability and innovation led to the creation of its Coating Business Unit, which includes Vireo Coatings, an environmentally friendly coating product that serves as a viable alternative to plastic. This development solidified ProCon's commitment to transforming the paper industry and providing options for eco-conscious consumers.
Explore our historical timeline to see the many milestones in our journey to becoming present-day industry leaders.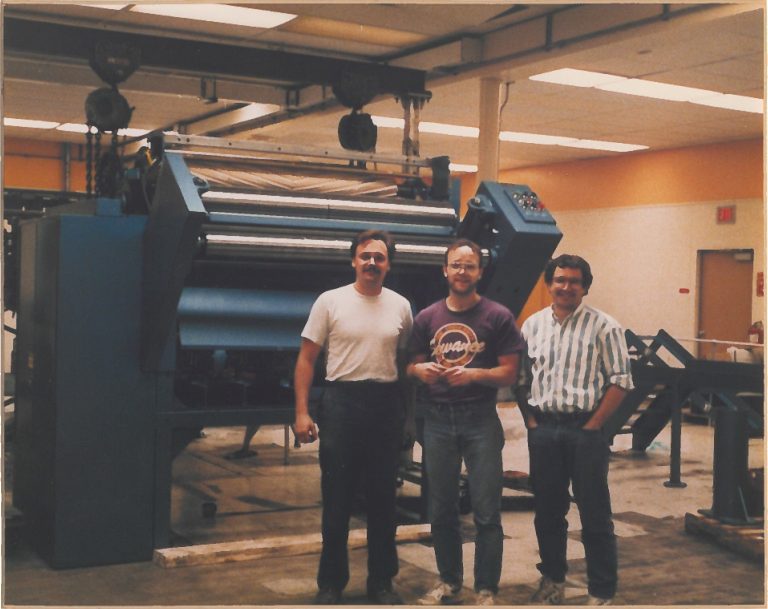 1991
Progressive Converting (ProCon) is Incorporated
Capitalizing on their commercial printing and packaging experience, Mark Reinhardt and Norb Schreiber start the company in Neenah, WI. George Schreiber and Dave Van Hoof become equal partners shortly after. A Maxson Sheeter is installed.
1992
Addition 2nd Machine in Appleton, WI
Moved to Appleton, WI where second sheeter was added. Focused on sheeting services for Paper Merchants and Printers.
1994 – 1995
Expansion
ProCon doubles sheeting capacity with the addition of two Pasaban sheeters. Adds rewinding capabilities and expands facility by 80,000 sq. ft. This expansion positions ProCon to serve the paper industry throughout North America.
1996
Greenfield Hazleton, PA
ProCon opens first regional facility in Hazleton, PA, to service the second-largest North American printing market with a single sheeter. A 2nd rewinder was added in Appleton, WI.
1997
Hazleton Expansion
ProCon adds Jagenberg sheeter doubling our capacity in Hazleton. Also added Jagenberg rewinder in PA
1998
Westward Expansion
ProCon Greenfields Reno, NV with the addition of a Jagenberger sheeter. Hazleton doubles its facility with the addition of an 80,000 sq. ft warehouse space.
1999 – 2000
Growth
Hazleton – Addition of Pasaban (3rd sheeter).
Reno – Adds sister Pasaban and doubles sheeting capacity
2001 – 2002
Expansion
Appleton purchases additional space, adds on to existing production facility to accommodate the addition of new 5th sheeter
2004
Warehousing and Distribution Services
ProCon significantly expands warehousing, supply chain and logistics in WI, PA and NV with 110,000, 80,000 and 50,000 sq. ft. respectively
2005
New Ownership
ProCon is sold to a new ownership group; three of the four founders remain shareholders in the company. Nevada plant relocates to Pomona, CA to better service the third-largest print market in North America.
2006
Rewinder Growth
ProCon invests in rewinding capabilities with the addition of two Webco rewinders that can handle 72″ ODs on and off. PaperQuest merges with ProCon and adds the paper sales business unit to our repertoire.
2009 – 2012
New Capabilities
Opening of Raphine, VA and Minneapolis, MN locations along with significant investments in digital capabilities in WI and PA. Added large and super large format capabilities.
2013 – 2015
Systems and Infrastructure
Major investments in new ERP system, integration development, new TMS system and quality/document management system. Significant expansion of 212,000 sq. ft. in Hazleton
2016
Additional Digital Capacity
Added 20,000 tons/year of digital sheeting and packaging capacity.
2017 – 2018
Additional Expansion
ProCon expands Appleton and Pomona warehousing space, adding rail crossdocking, now totaling over 1.3M sq. ft. Since 2009, ProCon has invested over $25M in equipment, systems, safety, facilities and personnel to establish themselves as the premier service provider to the North American paper industries! ProCon adds Bielomatik folio sheeter in Hazleton, PA
2019
Beaver Dam, WI Acquisition
ProCon acquires Northwoods Paper Converting in Beaver Dam, WI adding 7 sheeters with 270,000 sq. ft. of manufacturing and warehouse space.
2019
Hazleton, PA Expansion
ProCon adds 240,000 sq. ft. of warehousing space to expand 3PL capabilities to meet customer demands. ProCon adds Marquip flex sheeter to increase digital and large format capabilities.
2020 – 2021
Appleton, WI
ProCon adds two coaters for the application of water-based barrier coatings to paper substrates that are repulpable and recyclable.
2022
Appleton, WI
Building two grows with the addition of a PMC cup machine, targeted for R&D testing and prototype cup manufacturing. ProCon added a state-of-the-art Falcon sheeter with auto splicing capabilities and full speed skid changes.
2022
Little Chute, WI Acquisition
ProCon acquires Resource One International's paper converting business based in Little Chute, WI. Expansion in digital sheeting capacity and automated packaging was realized with six sheeters and 208,000 sq ft in manufacturing, warehouse and rail space.
2023
Appleton, WI Growth
Addition of a third coater, providing wide web, 85″ wide coating capabilities.